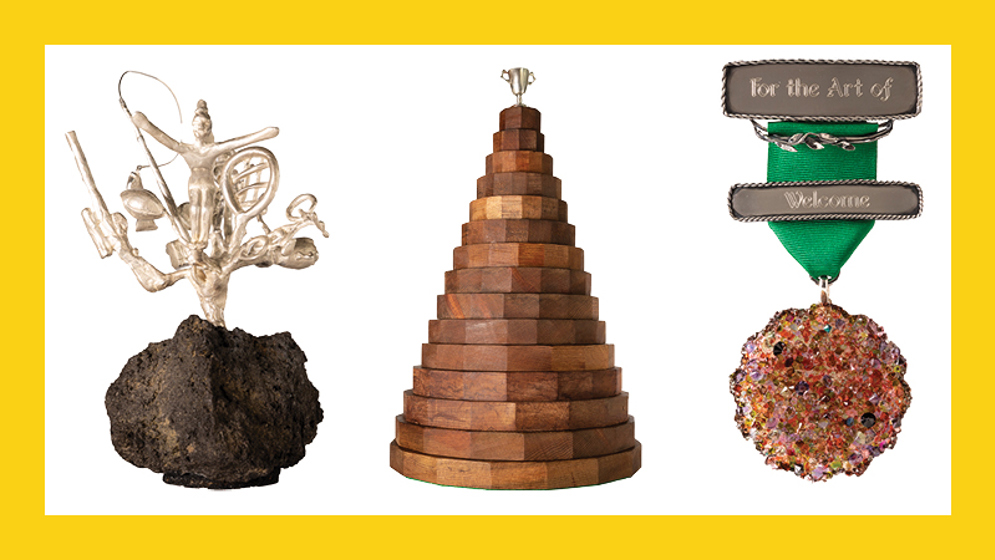 Badges created by Sam Kelly and Jennifer Laracy
Medals, trophies and awards in Puke Ariki's collection tell tales of wartime bravery, sporting skill, and public recognition. They show us who we were and what values were important to us in the past.
But what is important to us now? What has changed?
New Plymouth jewellers Jennifer Laracy and Sam Kelly asked locals for their ideas. In 2019 they held a series of community workshops inviting people to tell us about and design a medal for someone they think deserves to be honoured. Taking inspiration from those stories and the objects in the museum's storeroom, Jennifer and Sam have created ten new awards that represent what we value in Taranaki today.
The Diversity Award, studded with Swarovski Crystal, celebrates the art of welcome and the vibrancy others bring.  The Taranaki Whānau Trophy is in recognition of our role models and the ancestors who have come before us. Other values represented by the new awards include creativity, friendship, and sustainability. Crafted using a range of jewellery-making techniques and materials, the new awards presented in Redecorating Taranaki say a big thanks to everyone who makes our region such a special place.
Dates

18 July 2020 - 31 January 2021
Location

Lane Gallery, Level 2 Puke Ariki Library
Admission

Free
Ages

All Ages
Accessibility

Accessible by lift
Redecorating Taranaki Continued
We've added to Redecorating Taranaki! Now you can explore behind the scenes of the exhibition and learn more about the 10 community awards created by jewellers Sam Kelly and Jennifer Laracy.
Take our fun quiz to find out which value you align with and browse the artists sketchbooks.