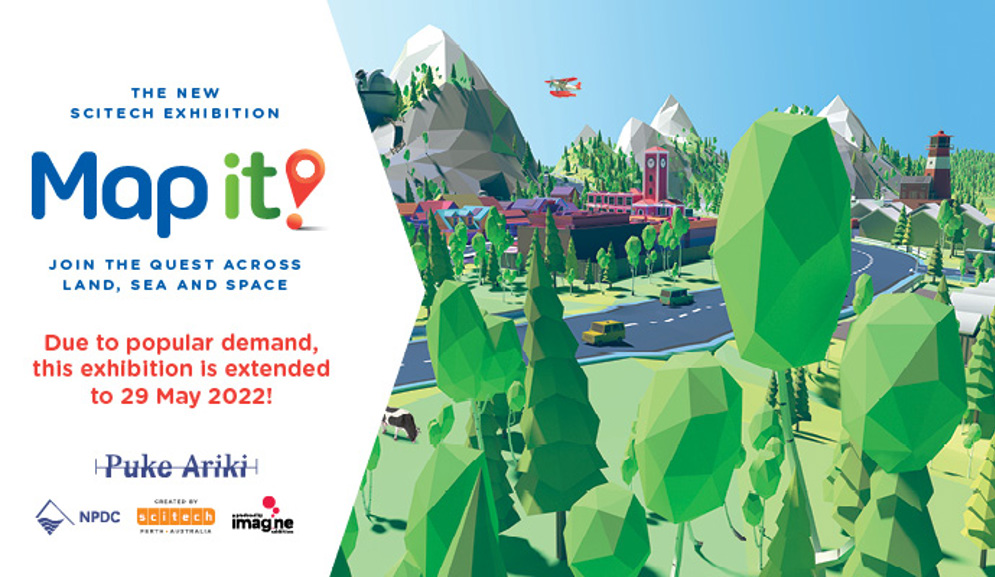 Looking for some family fun this summer? How about Puke Ariki's newest exhibition - Map It!
Map It! is an educational and interactive exhibition for kids of all ages to learn new skills. Visitors will be able to solve puzzles and collect different parts of their own map, which can then be viewed and brought to life through augmented reality. Every visit will be a whole new experience, and there's an onsite café for when the whole family needs a break.
Kids & Parents can undertake a quest across land, sea, and space to explore the role of mapping and navigation in everyday life. Mapping and navigation has been at the heart of the human experience since the dawn of our species, underpinning advancements in science, technology, engineering, arts, and mathematics (STEAM) over millennia.
At Map it! kids can explore the intricate global ocean currents using real-world scientific modelling by tracking the movement of debris from a spilled cargo container full of rubber ducks. Using the oldest navigational techniques known to humankind students will learn to use the stars to find their way across both land and ocean, just as our ancestors did tens of thousands of years ago. Throughout Map It! your kids will be captivated and surprised in the quest to explore cities, oceans and the night sky, and in developing their own mapping skills as they complete the quest map and uncover hidden layers of information.
The exhibition comprises of twelve activities which align with the Next Generation Science Standards, and the lessons and activities bridge the learning from the exhibition to the classroom for kids aged 8 – 14 years old. Teachers can choose which activities are best aligned with their curriculum and which best fit their students' needs and interests.
The twelve activities include:
An evacuation plan
Master gamer
Location via triangulation
Mapping the ocean floor
Topopotato
Magnetic seafloor
A treasure hunt
Tectonic earthquakes
Map distortion
Earth manual: piecing it together
Warming = cooling?
Speed of sound.
There are a range of activities for kids and parents to get involved with, such as learning how to coordinate and play a giant game of Battleship, how to navigate using the stars, and using sonar to scan your friends. Can you navigate through shipwrecks, pilot a simulated underwater vehicle, or escape a virtual building?
This is a once in a lifetime event for Puke Ariki so don't miss out!
Starting 3 May all Tuesday's and Thursday's from 3pm – 5pm, until the exhibition close on 29 May

All sounds at Map It will be on mute for these two hours as a sensory-friendly space for people to be a friendly environment for people with Autism Spectrum Disorder, sensory issues or special needs, to enable the enjoyment of the exhibition at their own pace.
Dates

4 December 2021 - 29 May 2022
Location

Temporary Gallery
Admission

Free
Ages

Suitable for all ages
Accessibility

Accessible