Skinny Jump is a low-cost, pre-pay internet service for people who don't have a broadband connection at home. There is no fixed term contract, you don't need a landline and there is no credit check required.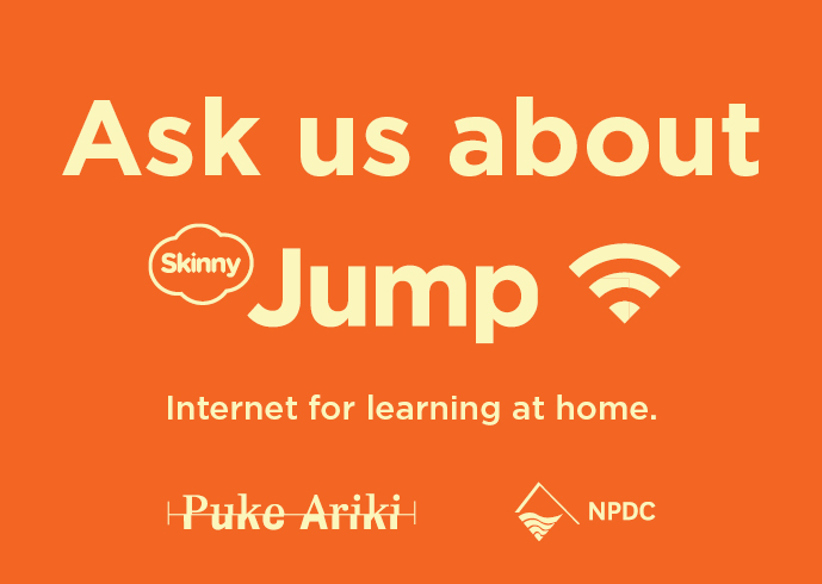 How do I sign up?
To find out if you're eligible call us on 06 759 6060 or come into one of the libraries.
Our team will:
check your eligibility (and set up an email account for you if necessary)
coordinate the delivery of your modem to your address.
You can also register online from the Get Jump webpage.
How do I check if I'm eligible?
Skinny Jump specifically supports those most at risk of digital exclusion, as identified in the government's digital inclusion blueprint.
If one or more of the following sounds like you, then you would probably be eligible:
Families with children
Job seekers
Seniors
People with disabilities
Refugees and migrant communities
Those in social housing
There may be other circumstances that make you eligible. The best way to find out whether you're eligible for Skinny Jump is to give us a call. 
How do I top up?
You get 35GB of free data with your modem and then you can top up via the Skinny website when you need to, it costs just $5 for 35GB of data.
How much does it cost to top up?
Skinny Jump is flexible prepaid broadband: Only $5 for 35GB of data, no contracts or credit checks, and the modem comes free of charge. Just top up as you go.
The flexible prepaid top-up system means you can get a 35GB plan for only $5; you can then renew the plan six times every month. You can get up to a maximum of 210GB every month (and it will only cost you $30).
In addition, you will also get a 15GB data boost each month. We will automatically load 15GB of free data to your account on the first of every month.
Where do I get more information?
If you need help setting up your modem or topping up, visit Skinny Jump.