Design a Bookmark Competition
Make your mark by designing one of our Puke Ariki bookmarks for 2021!
It's time for us to find five fabulous new bookmarks in our annual Design a Bookmark competition. We have four new categories for you to choose from. Get creative! We know it will be a hard job to choose our winners.
Choose one of the four themes to decorate your bookmark:
Sustainability
Mythical Creatures
Favourite storybook character
What does the library mean to you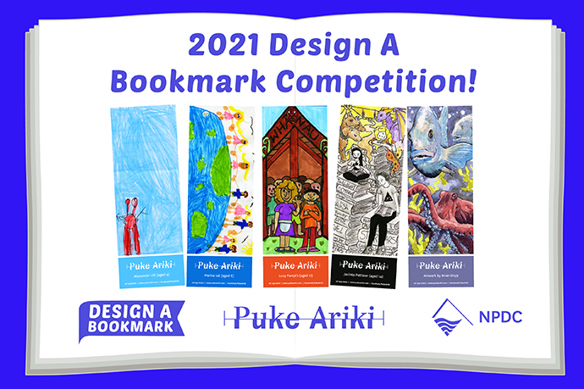 The competition is open to everyone and we will be picking a winner from each of these age categories:
0 - 5 years
6 – 8 years
9 – 12 years
13 – 17 years
Adult
Winners will have their design reproduced as an official bookmark.
Entry forms are available in the Mar – May edition of What's ON, which you can pick up from Puke Ariki and the community libraries, or you can download one here.
Drop off your completed entry form to Puke Ariki or one of the community libraries by 5pm Friday 30 April 2021.

Winners will be selected by 14 May 2021 and contacted by telephone. Good luck!