If you love to read and would like to discuss great reads with other book lovers come and join one of our book groups. 
Our book groups meet monthly at all the Puke Ariki libraries. We have book sets that we loan out to the groups for reading and discussion. Book groups are a great way to meet new people and enjoy a chat in a relaxed, friendly environment.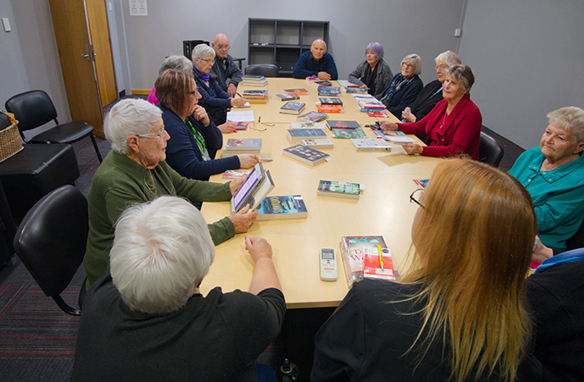 Book Group in a Bag
If you would prefer to organise your own book group we have book bags you can borrow as part of our Book Group in a Bag programme. They include everything you need to get started, 10 copies of a book and some questions.
Join a Book Group
Our book groups are very popular so please contact us to join. We will find a group that suits you. You can contact us by phone, through our contact us form or by coming into the library.
Book Group Times and Locations
Please note that book groups are not held during January.
Puke Ariki Library Morning Groups: 10am - 11am on the third Wednesday of the month
Puke Ariki Library Evening Groups: 6:30pm - 7:30pm on the second Wednesday of the month
Bell Block Library: 10.30am - 11.30am on the first Tuesday of the month
Ōākura Library: 7pm - 8.30pm on the last Thursday of the month
Waitara Library: 10.30am - 12pm on the second Friday of the month
Urenui Library: 3.45pm - 6pm on the second Friday of the month
Inglewood Library: The book group at Inglewood Library is full, please contact the library to join the waiting list. 
Book Titles and Sets
We have a great range of titles available for our book groups to choose from. There really is something for everyone. Check out our book group lists to find out what our book groups read.