Public computing and printing at the Library
We can help you take care of all your computing, printing and photocopying needs. At the Library you'll be able to book out a computer, load credit onto an account and be securely and privately manage your printing.
Services available to you:
Book a PC for use in the library - online, via your phone or from the kiosk in the library.
Use the Microsoft Office software on the library computers.
Print from a phone, laptop or from one of our public computers.
Send print jobs to the library from home, then come in and release them.
Enjoy streamline photocopying and scanning services.
Top up your account with printing credit (for regular users) or pay as you go.
Use simple and straightforward options to pay for printing and photocopying via Eftpos, Credit card or online bank transfer.
Pay in cash at the library counter.
Protect your privacy and security through use of our new system.
Pay for library fees online.
Take advantage of self-service available or ask one of our friendly librarians for help.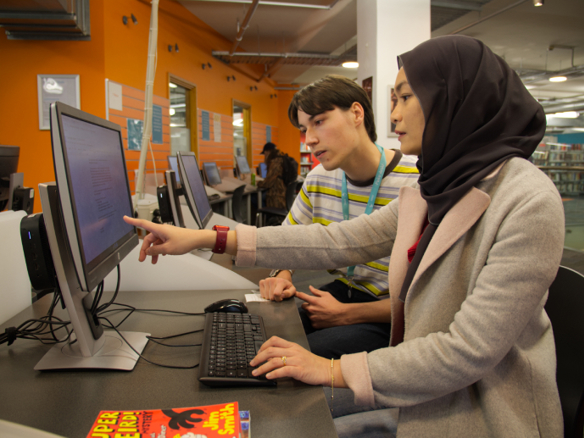 Frequently Asked Questions
What does that mean for me?
That means you'll be able to control your own printing, photocopying and scanning by loading money onto your printing account and using this credit to cover any printing or library fees. Like loading a bus card!  The new system will protect your privacy and be more streamlined.
You will also be able to book a computer to use in any of our libraries for the date and time you need.
How do I add money to my card?
To load credit onto your printing account you can:
Go to the kiosk in the library and add credit by Eftpos or credit card
Ask a library staff member to add cash to your account
Top up online
How do I print using my account with the new system?
Using your account to print is nice and easy with our new system. Simply
Send your print job from one of our public computers or from your personal laptop or mobile device. This feature will be available once the system has been implemented. Keep an eye on this page for the latest updates.
Adjust the attributes for your job i.e. black and white or colour printing, single or double sided. The cost will be automatically calculated
Print from the credit on your account or pay as you go to release your printing.
Do I need a new library card?
You won't need a new Library Card, you can either talk to one of our friendly team and they will show you how to load credit onto your current card, or you can load yourself by using the kiosk machine in the library.  Casual users can use a Guest Ticket to use our new system.