Impermanence: The Tongapōrutu Coastline - a 20 year odyssey
"Instead of a biography of a person, it's a biography of a coastline and it's my way of showing people what we're losing". Pat Greenfield
Tongapōrutu has one of the fastest-eroding coastlines in the world.
Damage to the dramatic white cliffs in north Taranaki is measurable here within human lifetimes. This vulnerable environment is impacted by storms and earthquakes, with the effects of climate change amplifying the destruction caused by each natural event.
Taranaki-based photographer and self-described archivist Pat Greenfield has been documenting changes to the Tongapōrutu coast for 20 years. She records history as it happens, focusing on the Three Sisters Beach and the neighbouring Four Brothers Beach.
Visit the exhibition to follow Pat's photographic and scientific journey along the cliffs and compare records of this striking landscape from the past two decades. Discover spectacular cave systems and the secrets of the powerful storms that strike our coast.
Dates

20 May 2022 - 27 November 2022
Location

Lane and Wall Galleries, Level 2 Puke Ariki Library & Museum
Admission

Free Entry
Ages

All Ages
Accessibility

See information here
At the Boundary of Impermanence
Scan the QR codes in the exhibition or visit the link below to discover more through an interactive online story. Follow Pat's journey along the Tongapōrutu coastline, watch interviews, and explore Pat's yet to be published book At the Boundary of Impermanence, shared here with the public for the first time.
At the Boundary of Impermanence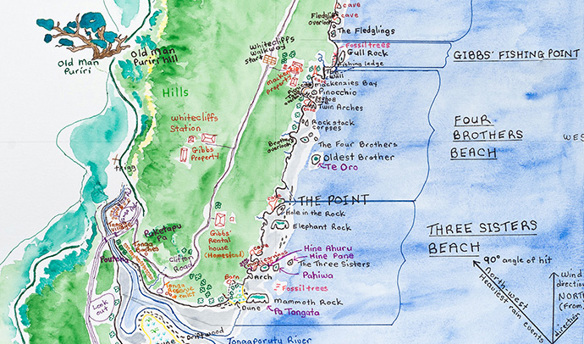 Tongapōrutu Coastline – aid to navigation map (2010). Pat Greenfield. Collection of Puke Ariki(PHO2008-361)