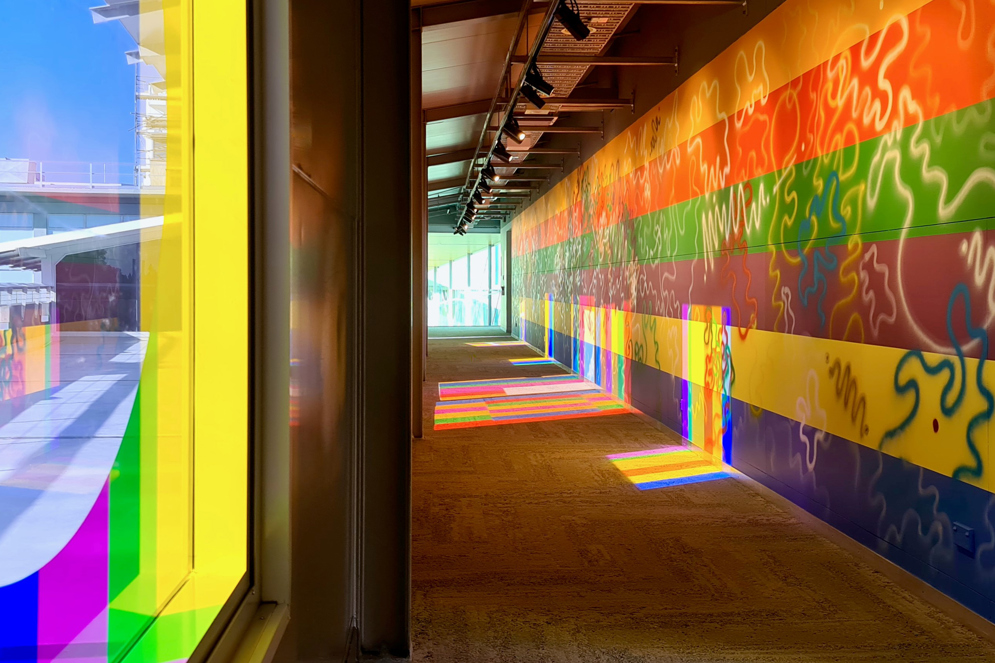 Therapeutic Agent is a new body of work by New Plymouth born artist Shannon Novak. The work explores challenges faced by the Taranaki LGBTQI+ community in the past and present with a view to creating positive change for the future.

Therapeutic Agent will be situated in the lane that leads to the air bridge (between Puke Ariki Museum and Puke Ariki Library) and is made up of three chapters.

First, personal artefacts capture key experiences from Novak's past as a closeted gay male in Taranaki in the 1980s and 90s.
Then the gallery walls will be painted in the colours of the rainbow flag but in the wrong order and defaced with graffiti, representing the ongoing challenges faced by the LGBTQI+ community today.
Finally, the windows will be transformed into contemporary stained-glass, providing a positive view of the future. Geometric forms and bright colours will symbolise the dawning of a new era of visibility, acceptance, and support for the Taranaki LGBTQI+ community and the healing of open wounds.
This exhibition coincides with Puke Ariki registering as a Safe Space, a space where the LGBTQI+ community can freely express themselves without fear and where violence, bullying, or hate speech is not tolerated.
Further Information 
To accompany Therapeutic Agent we have a booklet that goes into more detail about the concept behind the exhibition and gives voice to some of the members of the Taranaki LGBTQI+ community.
Date

Ongoing
Location

Wall Gallery, Level 2 Puke Ariki Museum
Admission

Free
Ages

All ages
Accessibility

Accessible by lift from the Museum