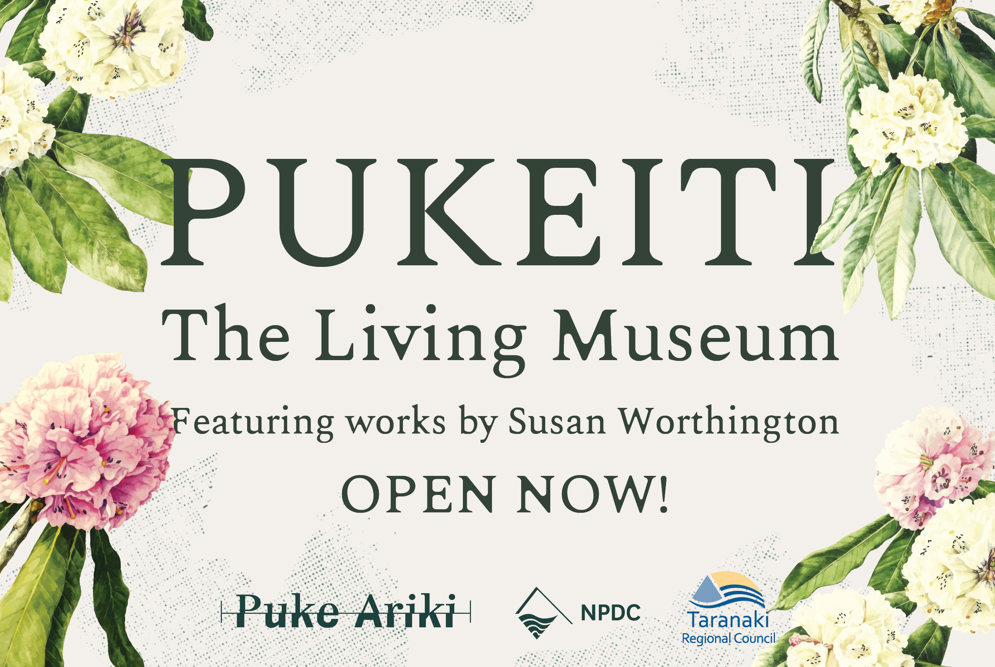 Nestled beneath Mount Taranaki, Pukeiti hosts one of the world's largest and most diverse collections of rhododendrons and other exotics, creating an explosion of colour among lush, native rainforest and mountain streams.

The collection includes many rare plants, including some rhododendrons that are now extinct in the wild.

Illustrated by Susan Worthington's botanical paintings of large-leaf rhododendrons, this exhibition explores the landscape, history and plants of Pukeiti, and the conservation efforts of a garden as a living museum.

Alongside the paintings you can enjoy a grass-turfed area, lift up the leaf interactives to learn about plants, watch some video footage from Pukeiti, and admire a Joseph Hooker book from the 1850s. The rise of the rhododendron in British gardens can be attributed to Hooker - when he set out on his original expedition only around 50 species were recorded and today over 1,000 species are identified.
Garden Passport Challenge
Attention all explorers!
We have the ultimate free family activity to get you through the spring and summer months. Have an amazing time exploring our region, and win the opportunity to name the new hybrid rhododendron at Pukeiti and an overnight stay in the new Family Hut nestled in the Pukeiti rainforest. How cool is that?
Here's how it works:
Pick up a Garden Passport at the Taranaki Research Centre, just next door to the Pukeiti exhibition at Puke Ariki.
Visit the exhibition 'Pukeiti: The Living Museum' and find the secret word. This is one of four words that you need to unlock a 'secret phrase'. Don't forget to write this in your passport.
Visit Pukeiti, Hollard Gardens and Tūpare before the end of February 2020 to find the other three secret words. There's a dedicated station at each garden.
Complete the activities in the passport and think of a name for the new hybrid rhododendron at Pukeiti.
Go online to Name a Vireya to submit your entry (you'll need the secret phrase to be eligible to enter).
Have fun and good luck!
Supported by the Taranaki Regional Council
Dates

14 September 2019 - 13 March 2020
Location

Lane Gallery, Level 2 Puke Ariki Library
Admission

Free entry
Ages

Suitable for all ages
Accessibility

Accessible by lift from the library or museum