At the Beach: 100 years of summer fashion in New Zealand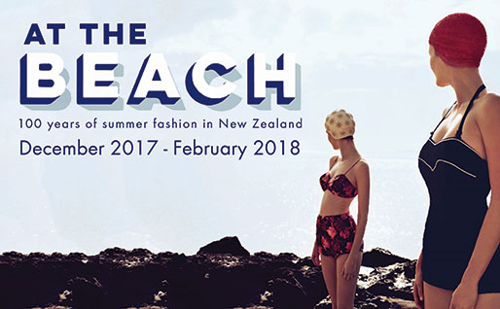 At the Beach playfully explores over 100 years of New Zealand's beach culture told through summer fashion.

Delve into an array of different outfits in this colourful exhibition. Enjoy the Hollywood glamour of the 1950s or the excesses of the 1980s! From boardies to beach capes, togs to terry towelling, paisley to playsuits, the exhibition spotlights fashion from the early 1900s to today.

Featuring only New Zealand made or designed garments, the exhibition explores how our love for the beach influences our national identity. Each garment has a story to tell whether it be the heavy woollen bathers of the Edwardian era or the skimpy bikinis of the 1970s that reveal how society's attitudes to modesty have changed over time.

This exhibition also celebrates Taranaki's beach culture with a look back at the vibrant past of the East End Surf Lifesaving Club. While absorbing the sights and sounds of the beach see if you can spot anyone you know in the photographs or recognise the iconic 'Liquorice Allsort' swimsuit from the club's nostalgic imagery.

Memories are snapshots into our pasts. There are many wonderful memories that have been created from experiences at the beach.
Read a collection of personal stories here.

Curated by the New Zealand Fashion Museum.
Dates

2 December 2017 - 18 February 2018
Location

Temporary Exhibitions Gallery, Puke Ariki Museum
Admission

Free entry
Ages

Suitable for all ages