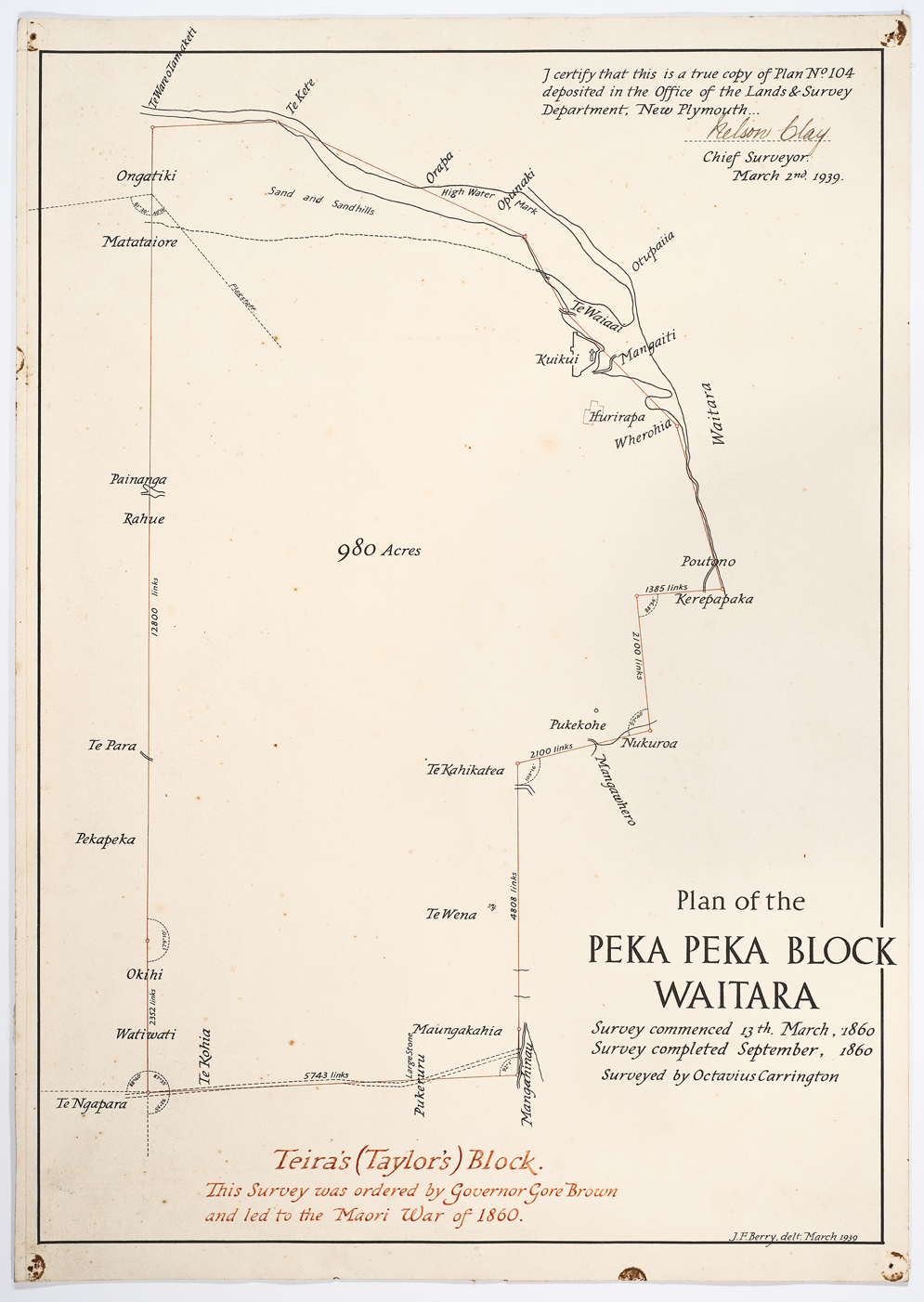 Plan of the Peka Peka Block Waitara (1860), collection of Puke Ariki
Education classes Term 1 2022
We are unable to provide EOTC classes during term 1 2022. For more information please see the Schools page.
---
About our Guided Research Lessons
Puke Ariki Research Centre holds a comprehensive array of resources in the collections. These include documents, maps, diagrams, photographs, artwork, diaries, publications and artefacts that can add value and authenticity to research work. Senior secondary students can learn how to access material for NCEA Level 1 - 3 in the TRC and research their own key questions.
Student numbers are limited to smaller groups in the research centre.  Email edpukeariki@nodc.govt.nz or call 06 7596710 for more information. 
Taranaki Wars
This lesson is a logical continuation of Walk in the Footsteps. Senior students (Years 11 - 13) can learn how to access essential material for NCEA Achievement Standards, or access the resources they need for their own research.
Ever since European settlers arrived and set up New Plymouth in 1841, they had their eyes on land in the vicinity of the Waitara River. Local Māori were adamant in not selling these lands. Until in 1859 Te Teira of Te Ātiawa iwi offered the Peka Peka Block near the mouth of the Waitara River for sale. The Crown accepted the offer, despite protest from Te Ātiawa rangatira, Wiremu Kīngi Te Rangitāke, and his followers. Without investigating the rightful ownership of the disputed land Crown forces occupied the Peka Peka Block in March 1860 and declared Martial Law. Armed conflicts and land confiscation followed until 1881.
This session is linked directly to NCEA achievement standards, Levels 1-3, for Social Sciences in the New Zealand Curriculum.
The following achievement standards can be linked to this topic: 

History
Level 1: AS 91003, AS 91005, AS 91229
Level 2: AS 91230
Level 3: AS 91434, AS 91435, AS 91436, AS 91437

Art History
Level 1: AS 91015, AS 91017
Level 2: AS 91180, AS 91185, AS 91186
Location

Taranaki Research Centre, Puke Ariki
Schedule

Available all year
Year level

Senior students (Year 11 – 13)
Duration

90 minutes
Cost

Free for Taranaki schools, $5 per student for schools outside Taranaki