The Puke Ariki library app lets you renew books, search the catalogue and access our online resources straight from your tablet or smartphone.
Getting Started
Search for 'Puke Ariki Libraries' in Google Play or in the App Store
Download the app to your smartphone or tablet.
Meet the App
You can search the catalogue, find out library opening hours, manage your account, download and use eBooks and eAudiobooks, connect to our social channels, use our online resources and check if we have a book in our collection from the barcode.
Search
Search our catalogue and see what is available at our libraries.
Nearest Libraries
Find library addresses and see when they are open.
My Account
My Account lets you manage your physical and electronic loans.
The first time you use the App you will need to sign in using your library card. You can scan your barcode or enter your number and PIN. Once you are logged in you can:
see all of your loans
renew your books
reserve items and view reservations
see any outstanding charges
change between English and Te Reo.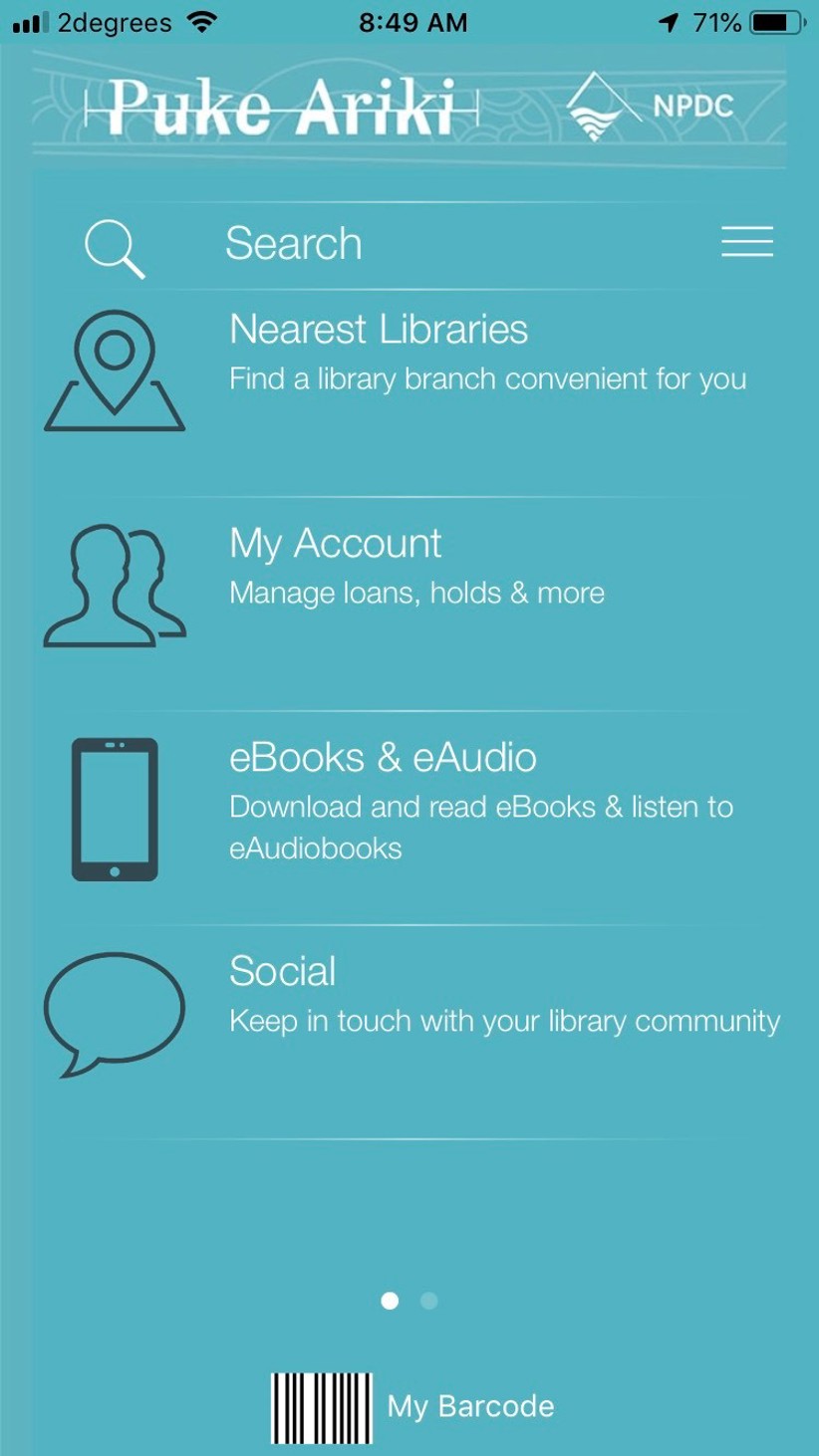 Linking accounts
If you need to keep track of loans on more than one card you can link all your library cards to one account. Your library cards need to be linked on our library system first. Pop in and see us or give us a call to get your cards linked. To link cards:
click on Linked accounts from the My Account area
click Add
scan the library card or enter the card number and PIN.
your accounts are now linked and all your loans and reservations will display.
Preferences
Use preferences to change the order the icons display on your screen. If you love Pressreader you can move Online Resources to the top of the list and it will display on the first screen.
eBooks and eAudiobooks
Search and borrow eBooks and eAudiobooks from, Borrowbox, Libby and Overdrive. If you already have these apps on your device you will be able to read or listen seamlessly using the Puke Ariki Library App.
Social
Link directly to our Facebook and Instagram pages to find out what is going on at Puke Ariki.
Online Resources
Access some of our excellent online resources directly through the App:
Puke Ariki What's On
Find out what events and activities are running at your local library.
Suggest a Book to Buy
Is there a book you'd like to see at Puke Ariki? Fill in our suggest a book to buy form and we'll see if we can add it to our collection.
Interloan Request
We can borrow some items from other libraries around New Zealand. If you can't find the item you're looking for in our collection, consider requesting an interloan from another library.
Scan ISBN barcode
Want to find out if we hold a specific book? Simply scan the barcode and the App will give you all the catalogue information.