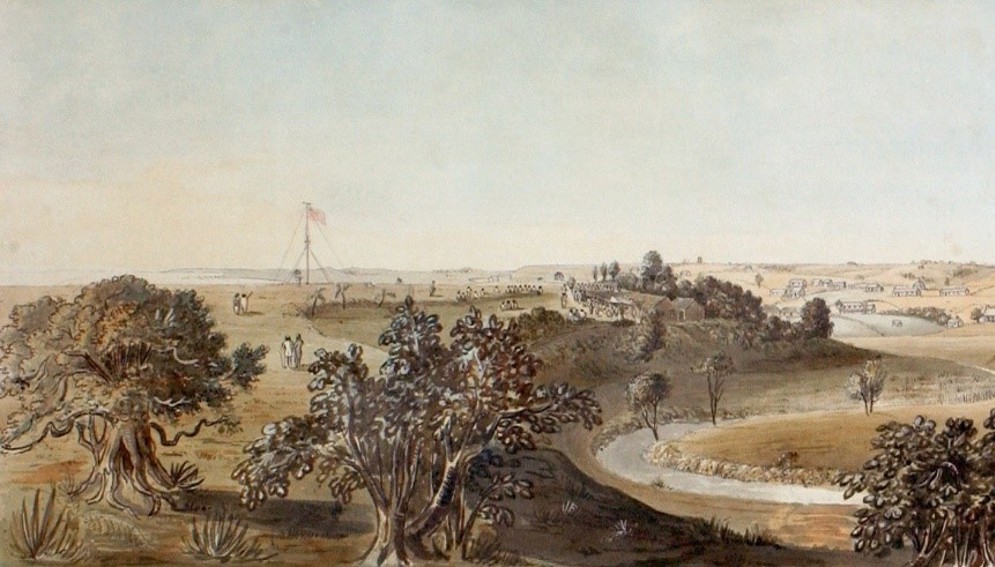 Puke Ariki Pā (view from west, between seashore and Mangaotuku Stream) Edwin Harris, 1844 (Collection of Puke Ariki A64.821)
This 90 minute walk and talk back in time is an overview of early Polynesian and European settlement in Ngāmotu/ New Plymouth.
The walk shares some of the oral stories of mana whenua, tales of European settlers and power struggles that led to years of conflict and land confiscation up to the late 1800's.
As a part of this walk a selection of historical sites will be visited including the former Puke Ariki Pā, Pūkākā Pā, plaques and memorials.
For class sizes over 15 students we can offer a rotation style activity when half the class undertake the hīkoi and the remainder of the class attend another topic in the museum. Then after a break the groups swap over.
If your NCEA students are researching a different topic please get in touch, as Puke Ariki Education may hold collection items that could assist.
Note: This hīkoi is not wheelchair accessible and requires a medium level of fitness. Students will need water, hats, sunblock, raincoat and suitable footwear.
New Zealand Curriculum links:
Social Sciences/NZ Histories - Big Ideas: Māori history is the foundation and continuous history of Aotearoa New Zealand. The course of Aotearoa New Zealand's histories have been shaped by the use of power. Colonisation and settlement have been central to Aotearoa New Zealand's histories for the past 200 years.
NCEA: History levels 1–3.  This compliments the research topics NCEA History students may take in the Taranaki Research Centre.
Location

Puke Ariki Museum
Schedule

Terms 1 and 4 only (weather dependant)
Year level

Years 7-13
Duration

1 hour and 30 minutes
Cost

Free for Taranaki students, $5 per students for schools outside of Taranaki