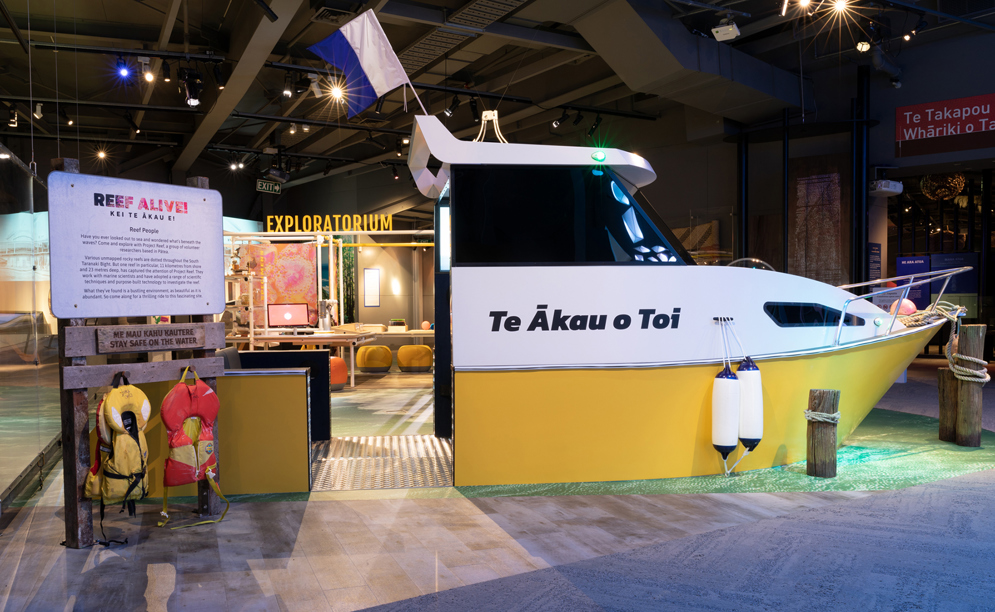 Most of the ocean and its life forms including the waters around New Zealand have not been studied. Off the coast of South Taranaki a group of passionate people have been researching and documenting life on one particular reef nick-named Project Reef, located 11 kilometres off the coast of Pātea and 23m deep. The results so far have revealed it is teeming with ocean life and is home to many different species.
The exhibition Reef Alive! raises awareness of the importance of marine habitats off our coast and asks the question 'Why is the ocean important to us?'
Reef Alive! Stage 1 opened in 2021, with the second half opening in 2022.
Junior students (New entrant - Year 10)
In this lesson students will learn about some of the marine protected areas along our coastline before zooming in on the research being conducted at Project Reef. The exhibition is highly interactive containing an exploratorium, replica boat, and diorama of sea life. Activities include rocky reef surveys, water clarity testing and a magnifying device to see creatures up close. Something for everyone to explore, learn and have fun.
Older students will learn about the impact climate change is having on our oceans and what needs to be done to protect them.
(Note: some highly interactive displays may not be available depending on COVID Alert Levels)
New Zealand Curriculum links:
Social Sciences: This topic covers elements of Social Studies Levels 1-5.
Science: This topic covers elements of the Nature of Science, Aspects of Understanding about Science (Living World, Ecology) Levels 1- 5.
Senior students (Year 11 - 13) 
Lessons for older students are linked to achievement standards, and can be useful for Biology, Earth Science, and Education for Sustainability. Students interested in Marine Science will benefit from this exhibition at Puke Ariki and the project itself.
Possible achievement standards linked to this topic could include:
Science
Biology
Level 1.2 AS 90926
Level 2.3: AS 91155
Level 3.1: AS 91601, Level 3.3: AS 91603, Level 3.4: AS 90716 Level 3.5: AS 91605:
Material World
Level 1.5: AS 90944
Living World
Level 1.10 AS 90949
Level 2.3 AS 91155, Level 2.6 AS 91158
Level 3.5: AS 91605:
Earth and Space Science
Level 2.2: AS 91188, Level 2.3 AS 91189
Location

Puke Ariki Museum
Schedule

Available all year
Year level

Junior students (Year 0 – 10)
Senior students (Year 11 – 13)
Duration

1 hour and 15 minutes
Cost

Free for Taranaki schools, $5 per students for schools outside of Taranaki