Parihaka: Contested Ground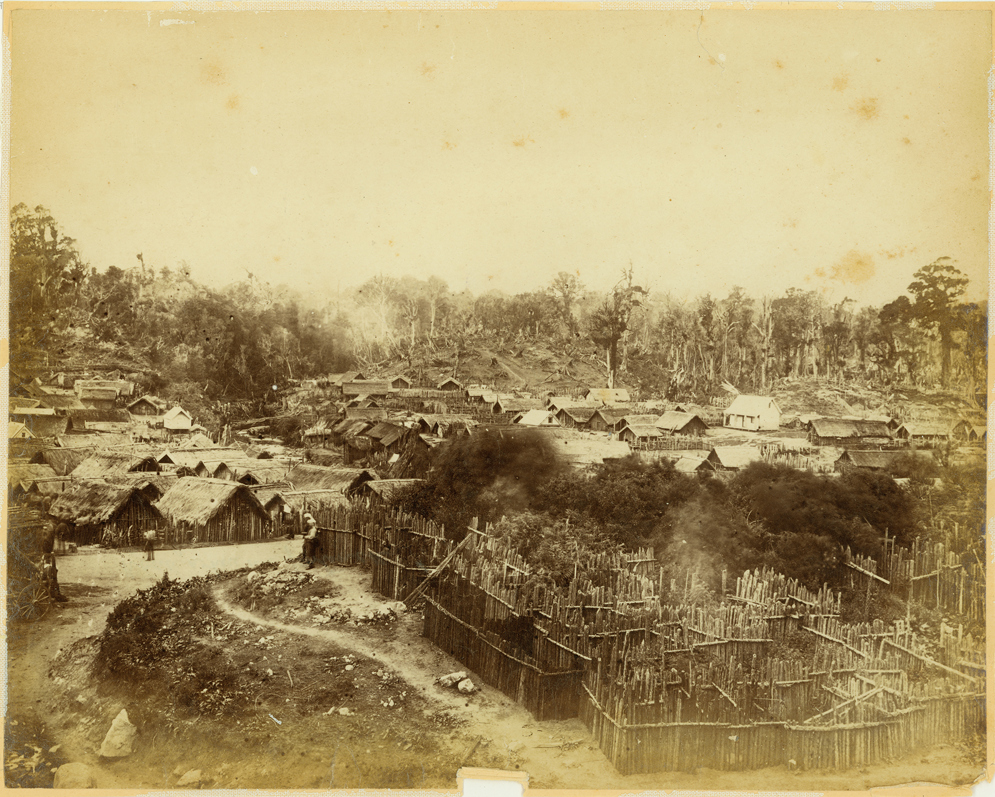 W. A. Collis, Parihaka (1881), collection of Puke Ariki
About our Guided Research Lessons
Puke Ariki Research Centre holds a comprehensive array of resources in the collections. These include documents, maps, diagrams, photographs, artwork, diaries, publications and artefacts that can add value and authenticity to research work. Senior secondary students can learn how to access material for NCEA Level 1 - 3 in the TRC and research their own key questions.
Student numbers are limited to smaller groups in the research centre.  Email edpukeariki@nodc.govt.nz or call 06 7596710 for more information. 
Parihaka: Contested Ground
Parihaka, a community established in western Taranaki in 1866, became the symbol of peaceful resistance to the confiscation of Māori land. On 5 November 1881, about 1,600 armed constabulary and volunteer troops marched on Parihaka. Te Whiti o Rongomai, Tohu Kākahi and Tītokowaru, the political and spiritual leaders of Parihaka, and many others were arrested and imprisoned without trial. The buildings and cultivations of the community were destroyed. However, against all odds and difficulties, Parihaka was rebuilt, and the community still exists today. Understanding the events relating to Parihaka offers opportunities to engage with the past in a bid to move to a better future.
This topic gives students the opportunity to consider the many perspectives of a significant event in this country's history.
The Parihaka material in the research centre highlights the people and circumstances of this historically important event, with information available in diaries, books, images, research papers, artefacts and media. NCEA students will learn how to access information and/or conduct their own research for assessment.
This session is linked directly to NCEA Achievement Standards, Levels 1 - 3, for Social Sciences in the New Zealand Curriculum.
The following Achievement Standards can be linked to this topic:            

History
Level 1: AS 91003, AS 91005, AS 91229
Level 2: AS 91230
Level 3: AS 91434, AS 91435, AS 91436, AS 91437

Art History
Level 1: AS 91015, AS 91017
Level 2: AS 91180, AS 91185, AS 91186


Location

Taranaki Research Centre, Puke Ariki
Schedule

Available all year
Year level

Senior students (Year 11 – 13)
Duration

90 minutes
Cost

Free for Taranaki schools, $5 per student for schools outside Taranaki