New Plymouth Guided Historic Walk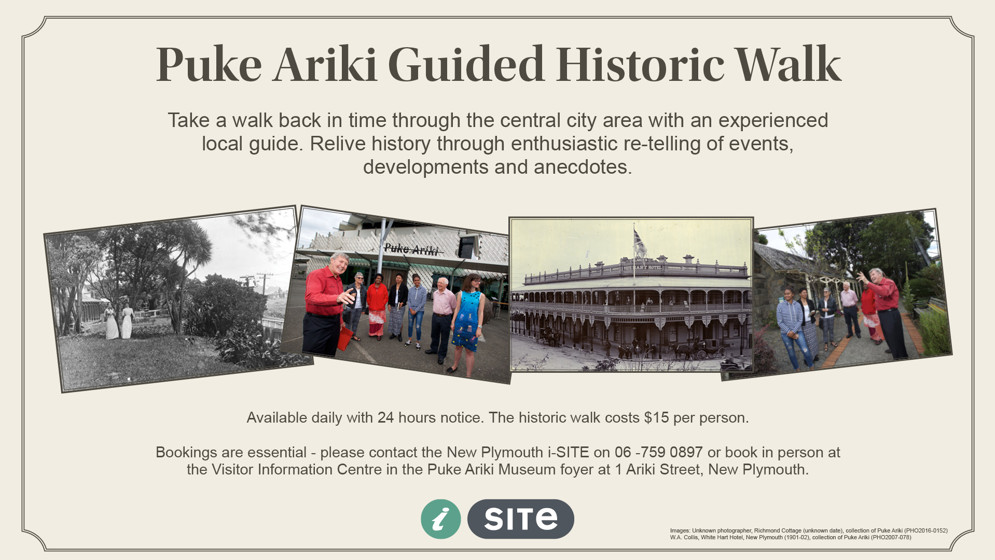 Step back in time with one of our dedicated volunteers to visit significant heritage site around the New Plymouth city centre.
Puke Ariki's experienced guides will bring the history of our town to life as you enjoy an easy stroll around the CBD, taking in key landmarks, places and moments from the past.
Hear the stories of hope and anguish, struggle and triumph of the early European settlers, stepping off the boat with just the bare essentials and dreams of a new life.
Discover how a bush-clad shoreline was transformed into a bustling community and meet the enterprising characters who faced down every challenge to achieve success.
There are two walk routes to choose from – the Taranaki Cathedral/Marsland Hill walk and the Devonport/Central City walk.
Each walk is around 2 km long and takes about 2 hours at a gentle strolling pace.
These walks are the same as the Guided Walks offered to the general public. 
Location

Various locations
Schedule

All year (subject to availabilty)
Year level

Senior Students (Year 11 – 13)
Duration

2 hours
Cost

$15 for adults, under 16 year olds are free