---

Got a computer or smartphone? Want to use it for life, hobbies, family or work?
Stepping UP free computer classes are for you!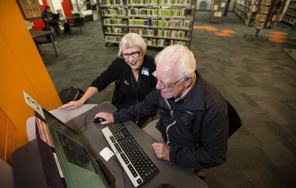 Stepping UP is free community-based training that builds your digital skills and knowledge in small easy steps, in subjects that interest you for your life or work.
Classes are aimed at beginners looking to improve digital skills that range from computer basics to social media, photo editing, Facebook, and home finances.
No cost, no tests, no pressure, no ongoing commitment
Classes
For more information visit Puke Ariki or any of the Community Libraries and talk to one of our helpful librarians. You can also find upcoming courses listed in the What's On section of the website.
Booking
Booking is required and numbers are limited. To book:
find the course you would like to attend in the What's On section and book online
phone

 

06 759 6060
visit any of the Puke Ariki libraries and talk to our staff.
CV Classes
Do you need help writing a CV, creating a cover letter or learning digital skills to help you prepare for employment? 
Our CV classes start on 14 July and run for 5 weeks. 
Justices of the Peace are also on hand at Puke Ariki to verify your qualifications and other documents.
CV classes are free, but spaces are limited to 6 people per session so booking is essential.
To book your space speak to a staff member, find the course listed below and book online or call 06 759 6060.