We now have Google Chromebooks available to use at Puke Ariki, Bell Block, Waitara and Inglewood libraries.
How to borrow a Chromebook
You need to have a Full Puke Ariki Library Membership card to borrow a Chromebook. If you don't have one check out Membership for how to sign up.
Visit the help desk at Puke Ariki, Bell Block, Waitara or Inglewood library ask one of the staff to borrow a Chromebook.
Chromebooks can be checked out for up to three hours.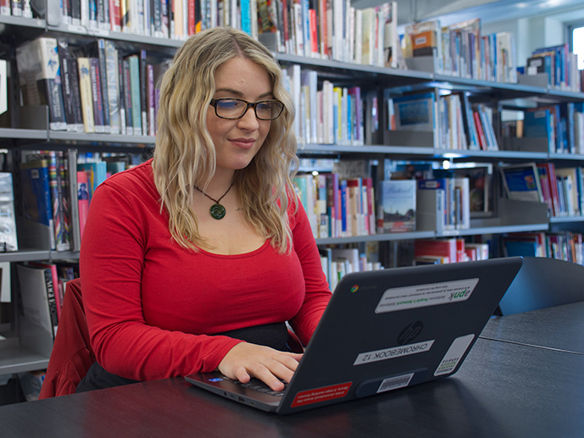 Frequently Asked Questions
What is a Chromebook?
A Chromebook is a simple laptop.
You can save your work straight to a free Google Drive account or onto your USB memory stick. This means you can start a document at the library and save it in your Google Drive account then open it on your phone, computer or any other device later on.
What apps or programmes can I access on a Chromebook?
You can use:
Chrome internet browser 
Google Docs, Sheets, Slides and Forms
Google Drive
YouTube
Gmail
Google Calendar
Google Maps
Microsoft Office Online to create and edit Word, Excel and PowerPoint.
Can I print from a Chromebook?
Yes, your printing will be sent to the library's printer and can be collected from the help desk
Can I take a Chromebook out of the library?
No, our Chromebooks are only for use in the library. They will not work if they are taken offsite.
How many Chromebooks are available to borrow?
There are:
13 at Puke Ariki
2 at Bell Block 
2 at Inglewood
2 at Waitara
How long can I use one for?
You can borrow a chromebook for up to three hours.
Can I book a Chromebook?
No, Chromebooks are issued on a first in first served basis. All of the libraries also have desktop computers available to use.
Is there an age restriction on borrowing Chromebooks?
Yes, you must be 10 years or older and anyone under 18 must have an adult with them.
Library staff reserve the right to change these guidelines at any time and/or revoke Chromebook use as needed