If you are unable to visit one of the Puke Ariki Community Libraries, our skilled librarians can select a bag of books just for you. Simply fill out the form below and select the library that you wish to collect your books from. We will be able to fill your bag with any items that are available on our shelves.**
All items will be issued onto your card, and can be collected from the help desk of the specified library. This is a free service, however you must be a library member.
Please note that it may take up to 48 hours for us to process your request – you will receive an email notification when your books are ready to pick up.
**Please note that if you want a specific item which is not on the shelf at your selected library, you will need to request this separately by placing a hold.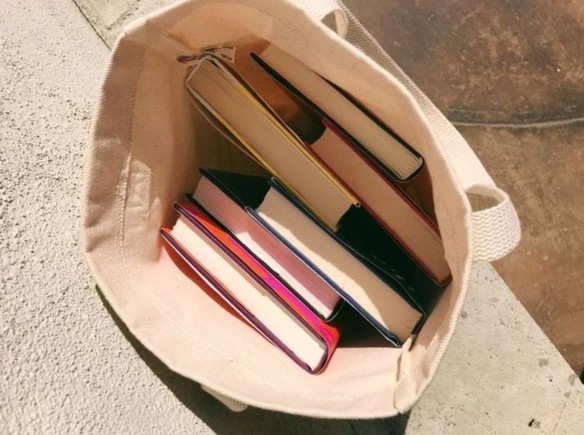 Frequently Asked Questions
What does the service cost?
This is a free service. However you will not be able to access it if you owe $15 or more on your library card.
What if I want a specific book?
We cannot guarantee the availability of any specific items. If you wish to request a particular title you can place a hold through our catalogue.
What can I borrow?
Books, graphic novels, large print, non-fiction, children's fiction, picture books, teen fiction, audio books… basically anything we have in our collection. Items will be selected from those available in the library at the time.
I read a lot – are you going to send me something I've read before?
We will not send you any items you have issued in the past 3 years, as this is how far our system records go back. If there is something that you don't want to receive, you can note this in your submission.
How many bags can I get?
You can issue one bag per library member at a time.
How long do I get the books for?
I only read large print/only listen to audiobooks/only read murder mysteries – can you help?
You can note all this information in your online form, and our librarians will do everything we can to accommodate your requests. Your books will be chosen by our skilled librarians, who will do their best to find something you will enjoy. The more information you give us, the more likely we are to choose you the right items.
I don't understand your online form – what do I do?
We are happy to fill out a request for you over the phone. You can call us on 759 6060.
Where do I pick up my books?
All bags can be collected from the help desk of the library you selected for your pick up location.
What happens if I am unable to collect my order?
Please contact the library as soon as possible. We will hold your bag for seven days before returning any items that have not been collected.